28 June 2018
Citizens' Consultations on the Future of Europe are open until October 2018
In the wake of the proposal of French President Emmanuel Macron, 26 member States launched an initiative with the support of European institutions in April called "Citizens' Consultation on the Future of Europe" to get the populations more involved in the decisions undertaken in Brussels.
The idea is simple: participate as a citizen in the future of Europe.
6 themes are identified:
Prosperity and employment in Europe

Sustainable development in Europe

Security in Europe

Europe in the world

Innovation in Europe

Unity in Europe
The results will be presented before the next European Council in December 2018 and included in the rebuild project for European Union.
HOW TO PARTICIPATE IN THE CITIZENS' CONSULTATIONS ON EUROPE?
Speak
You want to give your opinion, debate, share your ideas on Europe? You can do it in two ways:
Participate in one of the many events organised in France and/or Europe.
With an interactive map of the website quelleestvotreeurope.eu, you will find the event closest to you in France.
The website of the European Commission will give you the agenda of all events organised at European scale.

Participate in the online consultation, available in 24 languages on the European Commission website.
You can express your expectations and formulate proposals by answering 12 open or closed questions created by a panel of 96 European citizens from 27 Member States.
Organise
You want to contribute to a public debate and invite people to come and share their vision of Europe?
You can have your event certified! The conclusions of exchanges you created will be presented to the European decision-makers.
The conditions of the certification are specific to each participating member State. If you want to organise an event in a country different from France, you should try to find the schemes implemented in the relevant country.
Inquire
You want to discover the European institutions and their inner working? You still need to form your opinion about Europe?
The website Touteleurope.eu offers many educational contents to inform citizens who want to better understand the stakes in relation with the future of Europe. Articles, videos and graphics are available!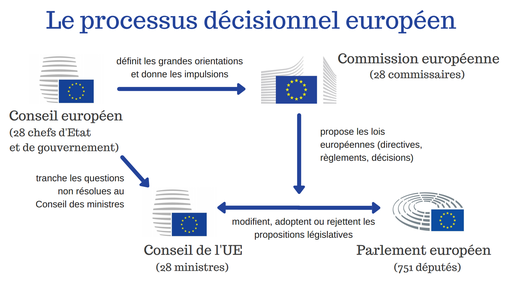 The major dates of citizens consultations on Europe
April 17, 2018

: Launch of citizens' consultations in France by the French president in Epinal

May 9, 2018

: Launch of the online survey

October 2018:

End of the consultation period

November 2018

: National restitution

December 2018

: European restitution
I truly wish that in each Member State, we could, during six months, organise democratic conventions during which, everywhere in our countries, people will discuss what Europe they want.
Emmanuel Macron, speech in Pnyx, Athens – September 7, 2017