Red and Black party @ Campus France
Party time with our scholarship holders!
On Tuesday 19 of December 2017, Campus France has organised a party for students (Alumni and Campus France scholarship holders) in its premises in Paris.
The first edition, which dress code was red and black, was a big success: more than 1470 people came. Students/Alumni from all over the world had the opportunity to meet and celebrate the end of 2017 together in a friendly and fun atmosphere.
The award celebration of the photo contest "et toi, ta rentrée ?" (How was your start of academic year?) was held during the party. For the occasion, photos of the participants were exposed in the entrance hall of Campus France in the fashion of a photo lab.
The winner of the contest, Duvan Felipe Machuca (Colombia), won a plane ticket and told the story behind his photo, like Carlos Rosa (Peru, third winner), Ana Laura Becerra (Mexico), Sanchez Previl (Haiti), Dana Kamzabek (Kazakhstan) and Juan Pablo Claros (Colombia).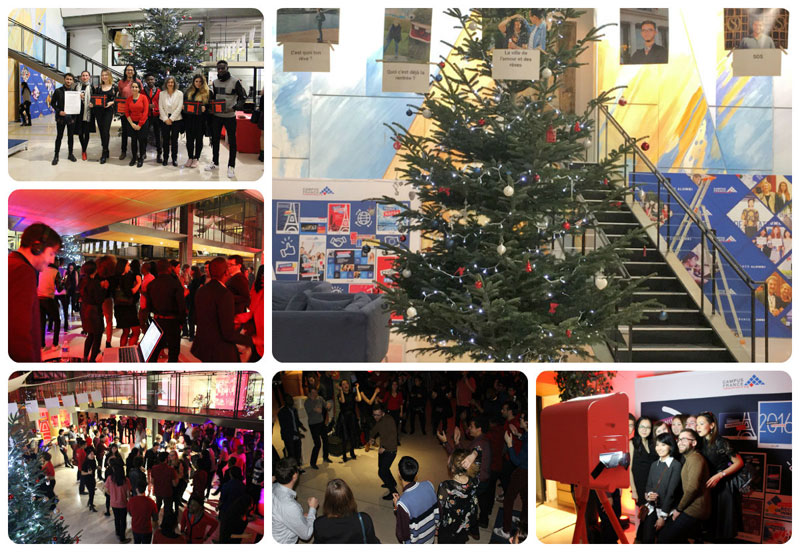 Then there was the CEROC show (from the French "c'est le roc") - a dance in pair adapted to current music trends-. This dance has been a big hit in the UK and Australia for more than 36 years.
Students and alumni danced all night on a playlist they had selected and on the music by DJ Baptiste.
All night long, guests could take pictures in a photo booth and print them with props (wigs, glasses, moustache...)
Food enthusiasts rallied around gastronomic specialties such as Dim Sums, wraps, chocolate fountain and more!
But also