Unusual hobbies in French mountains
In winter, going to the mountain often means skiing and sleeping in cottages. Let's break the routine! Here are a few alternative hobbies and housings, in order to see the mountains differently.
Across the mountain with animals
Have you ever dreamt of crossing the snowy Pyrenees as a trapper of the far North? In addition to the sleigh track, the sled dog academy Sherpa offers a much less known activity: cani-snowshoeing. You will be equipped with snowshoes and accompanied by a dog tied to your waist. Let the dog guide you during the walk. This activity is perfect for dog-lovers.
Even more unusual is ski-joëring, available in the Alpe d'Huez riding school. This activity born in Scandinavia is perfect for horse-lovers: just hop on your skis and let the horse pull you. No need to be a good skier or rider: ski-joëring is for everyone.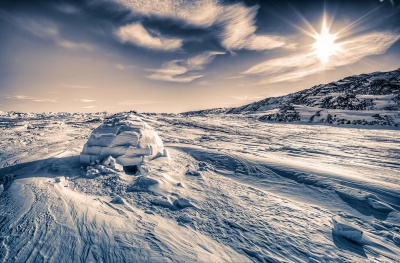 Even after Christmas, the magic you will feel during a stroll in a sleigh pulled by reindeers still operates. Located in the High Vosges region in Alsace, Chemins du Nord is one of the few structures in France to offer this activity from Lapland.
Unusual housings for surprising experiences
Do you get cold feet when you consider spending the night in an igloo? It's time to change your mind! Ice housing can create a warm atmosphere: in the heart of the Savoy, the Black Sheep igloo village offers the opportunity to dine and spend the night in a friendly atmosphere.
If you like to watch the Milky Way in your bed, go to the High Savoy region: in Combloux, you can sleep in a giant transparent bubble, in front of the Mont Blanc Mountain.
And if you're longing for the far North, run to the Blats camp site in the Auvergne region: you'll completely change scenery by sleeping in a Lapland Kota or a Finnish barrel.