TV5 Monde can help you work on your French through exercises about new technologies.
TV5 Monde offers a series of interactive exercises to discover the language of new technologies. Between words of English origin and new creations, how would you describe the world 2.0 in the language of Molière?
"Surf on the Web" or "Sail the net"?
You surf, like, chat for several hours every day. But do you really know how web language works? Whether you are a beginner or an expert, assess your level of French on a well-known topic: les réseaux sociaux (social media) or navigation sur internet (surfing on the Web).
From the "tablette numérique" to the "courriel" and "applis" you can download on your smartphone, discover how French vocabulary of new technologies uses English terms and terms invented for modern use.
Exercises talk about privacy on the Internet during downloads: it is also a way to talk about the issues of virtual life.
New technologies, new companies
New technologies also represent the creation of companies that work on a completely different basis, and of products that change the world. 15 years ago, Apple launched the iPod: the little connected object would soon invade our pockets and ears. This cultural and economic turn is described in several high-level exercises.
Many digital companies dream of similar success: Discover the story of SeeKube, a start up created by Paul, a young French entrepreneur, or the story of the Flying Cam.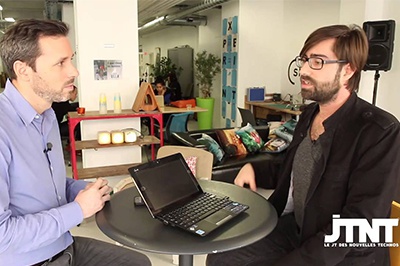 JTNT, the news of new technologies
Do you feel comfortable with French language? To improve your skills on more serious topics, the JTNT (Journal des Nouvelles Technoloies, or Journal of New Technologies) presents innovations every week. In video, experts detail new technologies. They also warn against their overuse: you learn how to avoid being misled by emails or to protect digital data. So stay connected, but keep your eyes open!