Designed by a French start-up in collaboration with a Japanese operator, Pepper the robot is experimenting a real success story in Japan.
20,000 robots sold since 2015
This is the story of Pepper, a 4-ft tall French robot. Since June 2015, he is living in Japan, one of the biggest consumers of robotics with China, South Korea and the United States. So far, about 20,000 units have been sold, says Japanese newspaper Nikkei.
Every month, in Japan, 1,000 Pepper robots are launched on the market. Home users and companies who want to make friend with the android must pay 198,000 yens (under 1,700 euros), plus 14,800 yens per month (about 200 euros) to cover registration and insurance fees. SoftBank, the Japanese mobile phone provider in charge of marketing the robot, hopes to reach profitability in five years.
A robot able to identify emotions

Pepper buyers were seduced by its many... human qualities. Its voice has a metallic tone, but its attitude is warm and mood sociable. With three cameras, sonars, laser captors, the robot is able to identify humans and to go meet them with a nod, a bow or a wave of the arm. It can also shake hands, have a conversation and detect emotions such as joy, sadness or anger.
Successful partnership between France and Japan
The digital heart of this android beats with "Made in France" technology. Indeed, a French pioneer robotic company designed Pepper in collaboration with Softbank. Created in 2005 by Bruno Maisonnier, Aldebaran Robotics founded a family of three robots, each designed for a specific use: Nao is focused on programming, teaching and research, Roméo, on social assistance and little Pepper on user or customer relations. SoftBank bought out Aldebaran in 2015. But today, though Pepper's body is assembled in China, its head is still manufactured in France, where 450 engineers from SoftBank Robotics work on the robotics of tomorrow.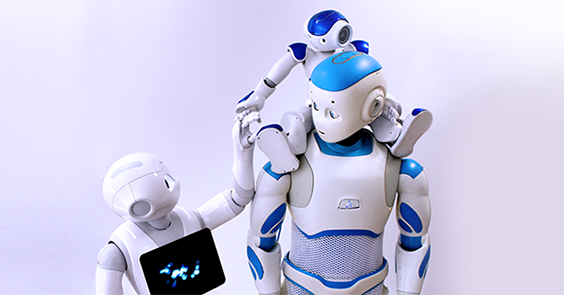 Photos © SoftBank Robotics