Activité Pop, an elegant symbol of French Tech
The Consumer Electronic Show (CES), major event for all fans of new technologies, has been held in Las Vegas in early January. The beautiful, connected and affordable watch "Activité Pop" puts the spotlight on the French Tech momentum.
Combining technological innovation with French elegance
It is both connected and fun, in addition to being a beautiful item: in early January, the French watch Activité Pop has been one of the celebrities of the Consumer Electronic Show in Las Vegas.
Activité Pop boasts two dials: to indicate the time, but also to sense movements and measure the activity of its wearer. The watch calculates the number of steps taken in a day, evaluates sleep quality and offers various alarms. By delivering incentive messages centred on physical activity, the watch aims at improving its wearer's quality of life.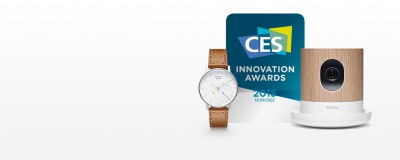 In a growing market, Activité Pop has the asset of combining technological success with an elegant design for an affordable price.
Highlight of the French Tech momentum.
The connected watch Activité Pop has received the Innovation Award, a trophy granted to the most innovative products by the CES. Four other French Tech companies have also received an award. France has been the first European country represented in Las Vegas: just as the Withings company, manufacturer of the watch, the high tech industry has been driven in this show by a growing number of start-ups.
Since 2014, they benefit from a government support, in the form of the French Tech Mission. This mission aims at promoting and networking environments developed in several French hub cities around digital companies. The mission also offers the opportunity of an investment from the government in designated initiatives driven by entrepreneurs in the industry.