This French pastry wears the crown of success
The French King Cake (galette des rois) is a January pastry celebrating the Epiphany. The gourmet tradition is a symbol of sharing and friendliness. Depending on the region, the galette exists in multiple recipes and names.
"I love King Cake, do you know how?"
"When it is properly prepared, with lots of butter!" This popular nursery rhyme stresses how much the French like their King Cake tradition. To suit their taste, they have the choice between two versions of the famous pastry: in the North, the so-called "Parisian" galette is cooked with flaky puff pastry and most often stuffed with frangipane, and in the South, the gâteau des Rois is a crown-shaped brioche filled with candied fruits.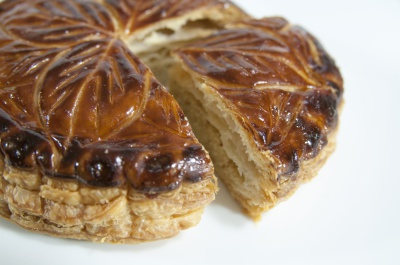 The King Cake season: Epiphany and maybe more
If King Cake is eaten in January, it is originally to celebrate Epiphany, a Christian celebration that recalls the arrival of the Three Wise Men. It is celebrated on January 6th, or on the first Sunday following January 1st. But most of the French enjoy this tradition throughout the month: it is the sharing of the galette that counts! At home, with friends or at work, the Epiphany is the opportunity to "find the kings": a fève (bean lucky charm) is hidden in the cake. The lucky winner who finds it can wear a fancy crown.