Always at least one missing, give or take
The great mystery of lost socks and the washing-machine black hole. So long as this mystery is not solved, Márcia de Carvalho will never be out of work! The Brazilian creator transforms socks which lost their significant other into genuine models.
Raiders of the lost socks
"I want to tell you about a serious issue: socks lost in the washing-machine." This is how Márcia de Carvalho starts the presentation of her business, with the inevitable subsequent burst of laughter. But the business creator stays on course: "I am very serious! 84 million socks disappear each month in France, which represent as much textile waste." Behind this efficient communication hides an ambitious and genuine concept: association Chaussettes orphelines (literally "Orphan Socks Association").
You will have to go to the Goutte d'Or district in Paris to visit the creation studio of Márcia de Carvalho. Behind the shop window, a small sign invites passer-byes to participate in the project and bring their lonely socks. You can also admire Márcia's original collection, made from recycled textile. It is made out of garment, socks, scarves, beanies and even laptop covers. You wouldn't guess that every one of these products or accessories were made out of second-hand socks.
"We collect in schools and town halls, says the Brazilian fashion designer. Sometimes, people even come by themselves. We receive boxes from all over France, including a laundromat in Rouen that sends every sock they find! This is so much that we had to transform our patchwork craft business in industrial spinning manufacturing."
After collecting, unmatched socks are brought to a factory in Castres-Gironde near Bordeaux where they are converted in yarns. Three years were necessary to design the spinning technique, but it gives Márcia de Carvalho a creative range much wider than untransformed fabric.
A career that did not lose the thread of success
"It was an obvious choice for me, said the Brazilian woman. As a knitwear designer, I've always worked in spinning factories." Born in São Paulo, Brazil, Márcia de Carvalho has a fashion designer mother and a recycling engineer father. Her occupation was written in her DNA code. But she first went through sociology studies to let her believes freely express: "I thought the world needed thinking, that something had to be changed. In the end, I use the concepts I studied in sociology in my fashion designer occupation" she says.
After arriving to France in 1987 to study fashion design in the Fleuri-Delaporte School, Márcia started to produce her own creations. As early as 1993, long before the expansion of the second-hand trend, ecology is already at the heart of her products: "For a fashion show, I reused mops that I dyed and transformed into a fitted coat. The result was very elegant. People were surprised when I explained that the coats were mops in a previous life!"
Solidary socks
The association Chaussettes orphelines was born in 2008 when Márcia de Carvalho was invited to participate in the Creation award by the City of Paris, a contest open to all designers and fashion designers. "I put a lot of thoughts as to what to offer to be original, she recalls. When I tidied my children's drawers, I found their little socks. It all became clear: I started transforming them in beanies, scarves, jumpers and more. This work was a huge success. I think that also comes from the fact that we all feel concerned about lonely socks and what to do with them.
After the contest, the City of Paris invited Márcia to participate in a project that, at the time, was only starting: the creation in the Gouttes d'Or of fashion and design, a centre for professionals of textile creation and design. To the eco-friendly aspect of Chaussettes orphelines, another link of solidarity is added with the creation of workshops for social reinsertion. They are designed for the residents of the neighbourhood to fight isolation.
Threading through business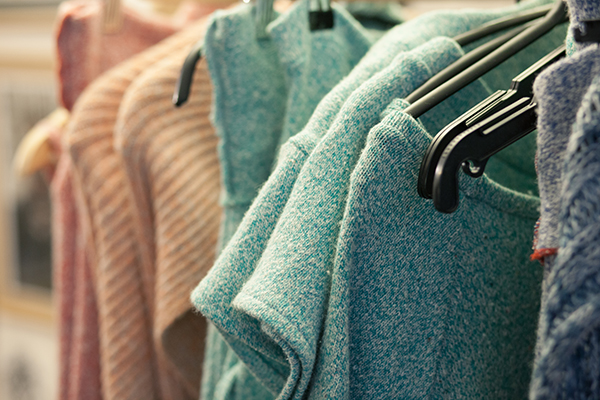 Eight years after its creation, Chaussettes orphelines is following the thread of success. The association is part of the class 2016 of Actors of sustainable Paris, an initiative of the City of Paris to promote eco-friendly and sustainable development projects. On a personal touch, Márcia de Carvalho has just been nominated Knight of the National Order of Merit as an acknowledgement of her work in France.
But Márcia is not resting on her laurels: in 2017, she will organise a solidary fashion show to increase the range of her message. Generated benefits will allow to finance a textile recycling chain, but also to offer gifts from the Chaussettes orphelines collection to struggling families. To complete her project, Márcia is always looking for partners. Raise your hand if you're interested!
Pictures © François Rouzioux/Animal pensant