From Hollywood to Noisy-le-Grand
Paris and its suburbs are attracting American producers: from "Hunger Games" to "Rosemary's Baby", more and more choose the Île-de-France region to shoot their movie. And this trend is not only due to budgetary constraints.
Hunger Games in Paris
The suburb of Noisy-le-Grand, in Seine-Saint-Denis, was chosen to partly host the shooting of episode 4 of the "Hunger Games" saga. The film crew has settled for two weeks in the Espaces d'Abraxas, a real estate complex inspired by neoclassicism already famous after appearing in "Brazil". With its 18 floors, octagonal shape and giant futuristic pillars, the Palacio building matches the futuristic society imagined by Suzanne Collins in her books.
American shootings in Île-de-France multiply
Choosing the Parisian suburbs to shoot the fourth Hunger Games films illustrates an ongoing trend: a growing number of Hollywood production companies choose the Île-de-France region to host the shooting of their films. In 2014, the movie "As Above, So Below" was shot in the famous galleries of the underground ossuary of Paris. After having installed its microphone booms and cameras in Aubervilliers and Les Lilas, the crew shooting the thriller Bastille Day arrived in Clichy, in the Hauts-de-Seine region, in November 2014.
If Americans multiply shootings in Paris, it's because of the particularly beneficial welcome conditions. The Île-de-France region attracts foreign producers through a highly interesting tax credit. The local available workforce has also a reputation of being well-trained and well-qualified.
A change of looks
This passion from Hollywood crews for Paris is not new. Paris is the most pictured foreign city in American movies.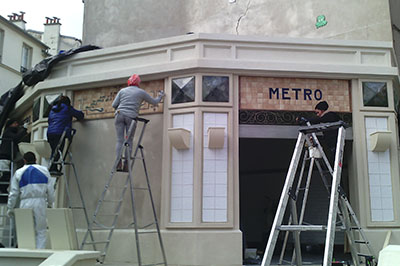 But filmmakers are not here to show a postcard city, as Woody Allen did in "Midnight in Paris". The financial aspect is more important than the playground. Here's an example with Rosemary's baby: the film was shot by Roman Polanski in 1968 and was originally set in Manhattan. When the channel NBC decided in 2014 to shoot a remake, the story was moved to Paris. Behind this change, reasons were primarily financial: the cost and service offer were better in the French capital.
The look on the Paris suburbs is also changing: it is no longer a canvas on which clichés on poverty and crime are painted. David Kanter, the American producer of the film "Bastille Day" explains that the idea of the film was to "put two Americans in the suburbs to show the world what Paris really looks like".
Picture: Shooting of the film "Bastille Day" ©Jeanne Menjoulet