Cristina Derache, a Romanian chef in Paris
At the "Crion Chez Cristina" she opened in 2013, the young Romanian chef Cristina Derache brings a spicy and exotic touch to the codes of bistronomy. This eccentricity is largely due to the peculiar career of this Parisian by adoption.
Of cooking and love
In love with Paris, with French cuisine, with French local products... It seems that Cristina Derache only knows the word "love". This young 33-years old Romanian chef cooks as much with her heart than with her guts. Is this the secret ingredient to produce elaborate but not snobbish, frank but not provocative and simple but not mundane dishes? In any case, Cristina Derache's cooking has inherited her passionate and determined character.
Five years ago, the chef opened her first restaurant, "Chez Cristina", in rue du Nil in Paris. In the French capital,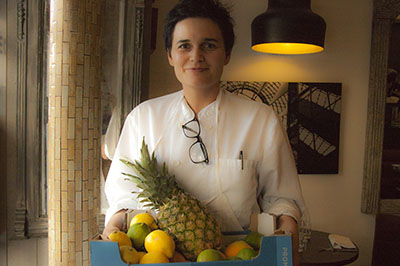 where cuisines from all over the world live together, Cristina Derache managed to take everyone by surprise with an unknown Romanian gourmet speciality: the sarmale, a national dish made of cabbage leaves stuffed with rice, meat and onions. The chef quickly earned a desirable reputation and even won the award of best Romanian restaurant in Paris.
She enthusiastically boasts about her country's culinary variety: "Romania shares 7 borders with foreign countries: it's a patchwork of Latin, Slavic, Byzantine and Oriental influences. Romanian cuisine is very close to Turkish cuisine, but it's also very influenced by Mediterranean flavours", explains Cristina Derache. She adds with humour: "Garlic is present in every Romanian menu. Don't forget you're in Dracula's country!"
Off the beaten tracks
Cristina Derache followed an uncommon path. She spent her youth in Constanta, on the banks of the Black sea, and was marked by the food shortage that plagued Nicolae Ceausescu's Romania. "Contrarily to most of us, I don't have any youth memory to rely on when I'm cooking. Romanian cuisine was almost inexistent during the dictatorship. Only from the revolution of 1989 did the first imported products appear. I was 10, and I wondered at those new and exotic flavours. I think I became passionate about cooking at that moment."
This sensorial shock took time. Cristina Derache waited 18 more years to wear her first chef hat. Before that, she managed to integrate the catering industry through the restaurant room. Every summer, as soon as she had reached 16 years old, Cristina Derache gained experience as a waitress in Constanta, now open to tourists.
From the restaurant room to the kitchen
At 21, she spent her holidays in the City of Lights: "I fell in love with the city. I decided to live my life here. Today, 10 years later, Paris still has the same effect on me. I don't think I will ever go back to Romania." In France, Cristina Derache enjoyed a string of experiences in various Parisian culinary establishments.
Until the "Chez Cristina" adventure, which would give her the opportunity to reveal her talents as a chef: "One day, our chef went missing and I was forced to supervise service. As such, I arrived in the kitchen by chance... and yet, today, I wouldn't see myself anywhere else." A real perfectionist, she did not rely on her achievements and took a training in pastry in the Le Nôtre institution. She started cooking a more sophisticated cuisine and to opened herself to other influences.
Winning return
In 2013, Cristina Derache opened "Crion Chez Cristina", her new HQ in the North of the capital. "With my partner Magali, we came to the conclusion that we needed to develop the cooking in "Chez Cristina" if we didn't want to fall in a cliché. The motivation was also sentimental: as a chef, I find myself much more in Romanian cuisine. I want to offer my clients something that identifies me."
Today, Cristina Derache's menu knows no borders: the Peruvian ceviche, Thai green curry, Andalusian gazpacho and Salers beef live together in perfect harmony. The quality-price ratio is unbeatable in the French capital: 18 € for a menu Starter - Main Course - Desert. In this corner of the 18th district, still untouched by the trend of neo-bistro, the "Crion chez Cristina" pleases local office workers and residents. "Every week, I create an exclusive menu depending on the season. I always discover new products, and that's exciting. Ever since I opened the restaurant two years ago, I feel like I'm progressing every day and that I know myself better through cooking!"
Crion Chez Cristina
9 rue Boucry – 75018 Paris
+331 42 09 96 26 - [email protected]