DIGIWORLD AWARDS 2017
Applications are open for the Digiworld Awards 2017, a prize for digital start-ups created by French citizens abroad.
The IDATE is one of the first study and council centres in Europe specialised in the analysis of the Telecom, Web and Media industries.
For the 39th DigiWorld Summit, the IDATE, in collaboration with Business France and the French Tech, organises for the third time the DigiWorld Awards to reward digital start-ups created by French citizens abroad in four categories: Africa & Middle East
–
Americas
–
Asia
–
Europe.
This is the perfect opportunity to identify many entrepreneurs that have created their start-ups all over the world and to reward those that are successful and before they may come to France in the future!
PROGRAM AND RULES OF THE DIGIWORLD AWARDS
The companies that may enter the contest must comply with the following conditions:
being created out of France by at least one French citizen not implemented or active in France;

run its main activity in the digital industry (Tech meaning): equipment & terminals, networks & telecoms, services and Web application without size cap.
The winners will benefit from a specific promotion in communication supports of the DigiWorld Summit on November 14 and 16, 2017 in Montpellier (France), in the communities of participants, in the dedicated media plan and during the award ceremony on November 15, 2017.
A fifth winner, the jury's choice, will be selected among the start-ups working internationally and created in the environment of the Occitanie region.
Trophies will be granted in opening of the DigiWorld Summit on November 15, 2017 at 7 pm, after the selection of start-ups awarded by our jury and made of professionals and experts of the industry.

PRIZES AND AWARDS
Awarded start-ups will be invited to take part (for free) in the DigiWorld Summit for the award ceremony in plenary session of the DigiWorld Summit.
A dedicated presentation space is planned as part of the exhibition of DigiWorld Summit (Corum)
Each prize will be endowed by sponsors of the operation – Accenture, Ericsson, and Orange – who will put at the disposal of the start-ups awarded their Innovation scheme at international level.
The media plan in association with the operation will be the opportunity to highlight the winners who will also integrate the Wproject (www.wproject.fr), the platform of reference for French entrepreneurs abroad.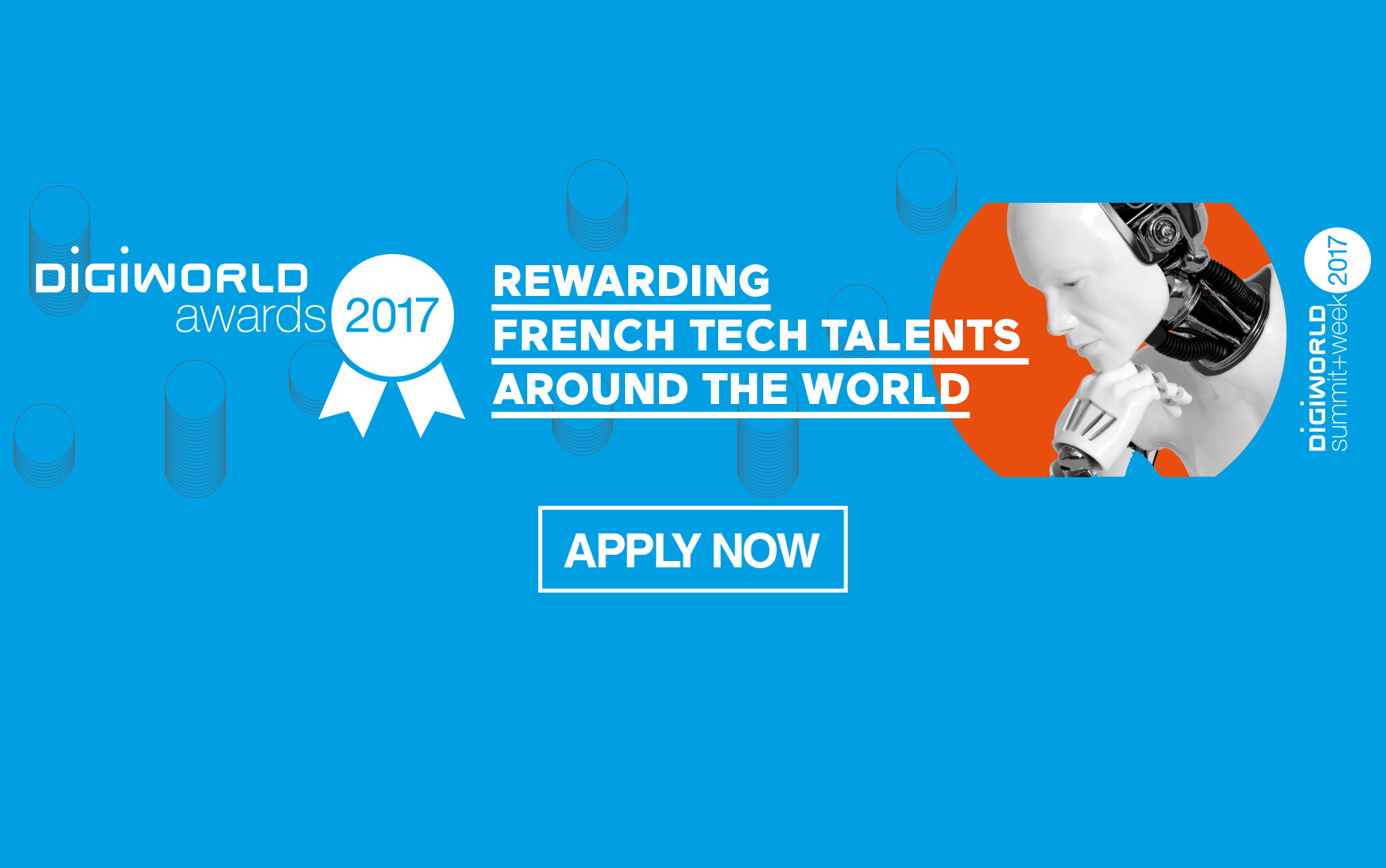 TO APPLY
The file must be completed online before September 29, 2017 here: www.f6s.com/digiworldawards2017digiworldsummit/apply with a presentation of 5 slides maximum to [email protected]