A portrait of the new winner of the Club France-China Entrepreneurship Award
Chinese alumni Zhongmeng Wen won the Club France-China Entrepreneurship Award in October 2016. Here a look back on his unusual career, from Shandong to the University of Technology of Troyes.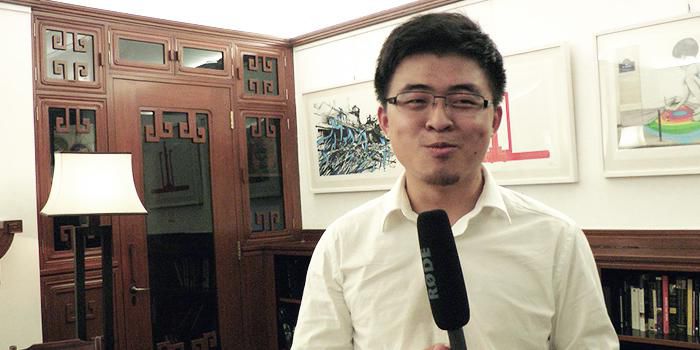 Collaborative robots for the industry of tomorrow
On October 26, 2016 Chinese alumni Zhongmeng Wen won the "Prix de l'entrepreneuriat Club France Chine" (Club France-China Entrepreneurship Award). The contest is organised by the French embassy in China and wards every year a business project by a Chinese alumni of the French higher education. The contest prize: a financial contribution of 50,000 yuans, which is about 7,000 euros.
Zhongmeng Wen, 26 years old, managed to beat about 300 contestants. His project? To create collaborative robots humans could work with in total security on the same production line. Needs to this regards are important, especially in China, said an article in the "La Croix" newspaper: "Here, where industry and workforce can modernise very quickly, this type of machine is the future. The potential market is huge."
From Shandong to Troyes, from Troyes to Shanghai
Born in the Chinese province of Shandong, Zhongmeng Wen grew up in the village of Juy, far from the coastal cities of Qingdao or, further South, Shanghai. "At home, we had nothing, no cars, no television", he remembers. "The only way to improve your condition was to study".
In 2006, he entered the Institute of Technology of Harbin, in Manchuria. The university is one of the most prestigious of the country, and Zhongmeng easily passed his engineer degree in automatism four years later. He obtained a scholarship from the Chinese government to continue his studies abroad. He went to France, and more precisely to the University of Technology of Troyes (UTT) where he continued his studies in a master in mechanical systems and materials. "It was the first time that I discovered a different way of living and doing than the Chinese way. It opened my mind", he says. He would pass his "Doctorat" (PhD) in this university in 2015.
Today, Zhongmeng wants to create his robotic company in Shanghai with three friends. "There is so much to do there, everything is possible and everybody has a chance. Success or failure, that's not the point. The most important thing is to have dreams. And dreams... Oh boy, my head is full of them."
Pictures © French embassy in China