An awesome tool for education and culture, Erasmus benefitted more than 5 million Europeans since its creation in 1987.
An exchange program with a great momentum
The story of the European program of student exchange is a story of love, friendship and even babies. The popular Erasmus celebrated 30 years old on October 13 and 14. Over 600 celebrations were organised in 11 European countries during the #ErasmusDays to celebrate this tool now considered as one of the most successful of European construction. In 30 years, enthusiasm for the program has been incredible: about 5 million Europeans benefitted from the program, including 3.3 million students. In 1987-1988, the years of its creation, only 353 had participated!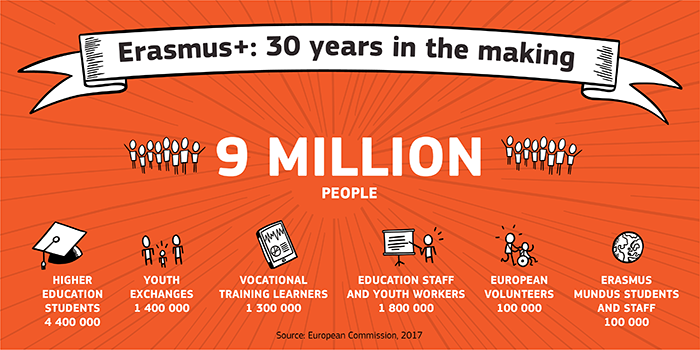 2014: extension to other audiences with Erasmus+
Originally, Erasmus is an exchange program for higher education students from the European Union. In the wake of its success, the program opened to other audiences. Since 2014, Erasmus+ allows students in high school, apprentices and volunteers, but also teachers, trainers and youth organisers to benefit from the exchange program and meet their European neighbours. Professional insertion through internships has become a major aspect of the program.
33 countries, and France in the Top 3
The program has expanded beyond the borders of the European Union: nationals from 33 countries now participate in Erasmus+. Spain, France and Germany are respectively the three favourite destinations of applicants. In 2014-2015, about 30,000 students chose France for an exchange stay as part of the Erasmus+ program.
Erasmus+ also lifts the financial barriers to mobility through the granting of a scholarship (between 150 and 450 Euros per month, depending on the host country and the program). Today, a third of participants is made of people with an unprivileged background.