Lost in Frenchlation: Paul Verhoeven's "Elle"
SUMMARY:
FILM: 'Elle' directed by Paul Verhoeven (130 mins) - Cannes Film Festival 2016
DATE & TIME: Friday 24th June – film-themed cocktail available from 8pm (€4); screening starts at 9:15pm
CINEMA: Studio 28, 10 rue Tholozé, Montmartre 75018 Paris
TICKETS: Concession price of €7.50 applies to all! Only available at the door (please arrive early to avoid disappointment and bring cash as Studio 28 does not accept cards)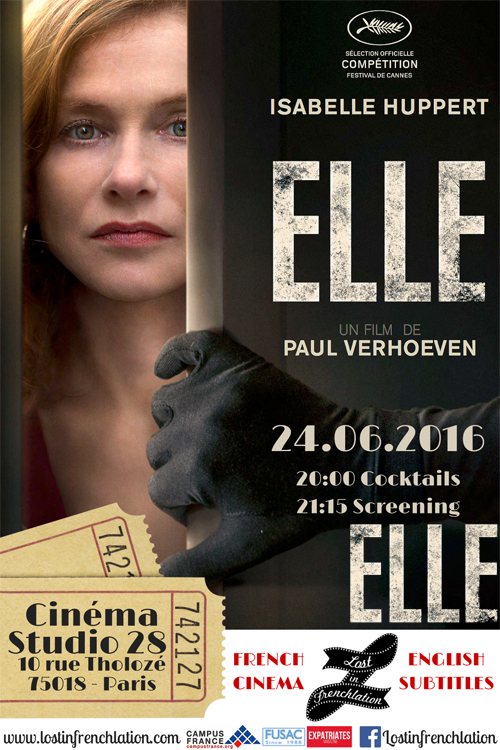 DETAILS:
Just weeks after its premiere at the Cannes Film Festival, Lost in Frenchlation is proud to be bringing you our first French thriller on Friday 24th June, 'Elle', starring Isabelle Huppert in what has been called an Oscar-worthy performance!
'Elle' is Paul Verhoeven's hugely popular comeback film after his break from directing box office hits like 'Basic Instinct'. This rape-revenge thriller is an adaptation of Philippe Dijan's provocative novel and is Verhoeven's first French-language feature film which has already stirred up opinions within the press… "Whatever your take, it's a film that will inspire debate for decades to come" - Time Out
"Michèle seems indestructible. Head of a successful video game company, she brings the same ruthless attitude to her love life as to business. Being attacked in her home by an unknown assailant changes Michèle's life forever. When she resolutely tracks the man down, they are both drawn into a curious and thrilling game that may, at any moment, spiral out of control." - Official synopsis
If it sounds like you might need something to settle the nerves before the film starts at 9:15pm, we've got you covered - we'll be serving a delicious cocktail at the bar from 8pm for only €4 which should you allow you plenty of time to catch up with old friends or to some make some new ones there! As usual, the screening will be taking place at cinema Studio 28 in the heart of Montmartre – Paris's oldest yet most charismatic cinema room.
Don't miss this opportunity to see 'Elle' in true Parisian style – at the cinema!
By registering on the following link: https://www.facebook.com/events/563232880468315/, by klicking "going", you allow Lost in Frenchlation to foresee the audience to be expected and you may receive notifications, or last minute information on the event.
From Friday 17th June 2016

05:05 PM


to Friday 24th June 2016