An application to fight food waste
Saving money while fighting food waste: this is the concept of OptiMiam, an application designed by French-Beninese business creator Raodath Aminou.
A simple solution to complex issues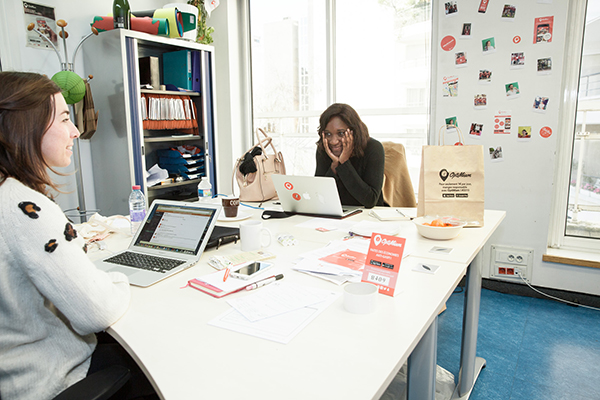 While walking along a Japanese catering restaurant in her Raodath Aminou was stricken by the creative light every business creator dreams of having. "He was selling his stock of sushi for half the price because he would be closing his shop in two hours, she remembers. He preferred to sell off unsold stocks rather than throw them away."
The young woman then had a genius idea: she created a smartphone application connecting business owners to consumers from the same neighbourhood to notify of last minute promotions. "The idea was easy to explain, to implement, and most of all, it made sense: it could reduce food waste while creating social contact. I thought there was no reason why this wouldn't work!"
At the time, Raodath was a student in Master of Innovation and Digital Economy at the École polytechnique of Paris, and she decided to present her project for the "Startup Weekend" contest of her school. On March 9, 2014, she reached the third step of the podium and laid the foundations of OptiMiam. "The very same day, I met my partner Alexandre Bellage, she remembers. Her business profile immediately intrigued me. Then we managed to convince Meddy Menzikoff to join us for the technical development."
Assault on "Popular Paris"
Missing a good bank loan, OptiMiam started with limited means. This factor pushed the three cofounders to proceed very quickly. In six months, the application was launched in several districts of Paris: the areas included many neighbourhood stores and a blooming neighbourhood life, a fertile ground for the deployment of the "food tech".
"We managed to convince the appropriate people, says Raodath. Students and professionals agreed to collaborate with us free of charge before being employed when our financial situation would allow us to do so. Today, our team includes 15 people, of which 10 are employees!"
The OptiMiam application is downloadable free of charge and works through geo-tracking. The user is notified of promotional offers nearby. Businesses must register to use the system: every day, they may offer a package ("OptiBox") valued at 10 euros but sold at 3-5 euros.
Two years after the launch, the OptiMiam network already includes 400 independent businesses, fast food chains, supermarkets and 105,000 users, mainly students and single persons under 35 years old. "Our objective today is to extend the concept to all districts in Paris and other French cities, says Raodath. We proceed methodically: every month, one neighbourhood."
From the French high school in Cotonou to Polytechnique in Paris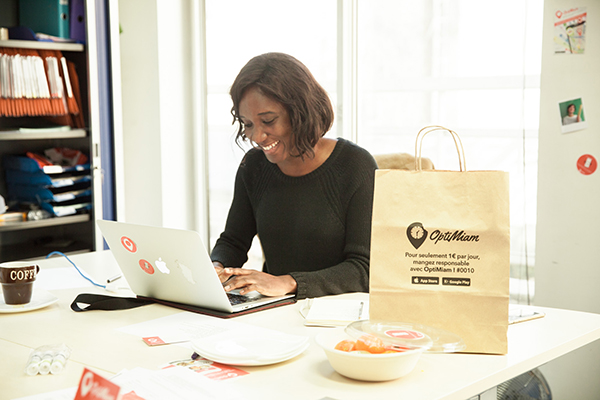 The fast-growing success of OptiMiam reflects Raodath Aminou's own successes. Born in Benin, the young woman passed the baccalaureate at 16 years old at the French high school in Cotonou. Her results gave her access to a scholarship for studies in France, and she registered in classe préparatoire in the Lycée Buffon in Paris. She graduated in Master of Management and Information Systems at the Institut supérieur d'électronique de Paris (ISEP) in 2011 and studied in École polytechnique from 2013 to 2014.
Today, Raodath is 26 and can be seen as one of the business creators that shake French economy. She humbly speaks of her chance to "be at the right place at the right time, at this sushi shop". But OptiMiam is a direct consequence of her story. "In Benin, we never waste any food, she says. Everything can be recycled. When I started my research here in France, I realised figures where sky high. But I must admit that I'm more into the social part of the project than in the eco-friendly part!"
One year of the implementation of the National Pact to Fight against Food Waste by the French Government, OptiMiam is gaining momentum and accumulates awards: "E-Food" award in 2014, "Émergence Service BtoC" in 2014, "Paris-Saclay Invest" in 2015, etc. In 2016, the start-up also won support from the Soutien aux projets socialement innovants from the Île-de-France region and raised 600,000 euros. That's enough to imagine a brighter future... with less waste.
Photos © François Rouzioux/Animal pensant