Ménilmontant, Ourcq canal, Butte-aux-Cailles
The walls of Paris are a great expression support for street artists. Far from the usual stereotypes, explore the hidden face of the French capital.
Ménilmontant: traditional hub of Paris street art
The Belleville and Ménilmontant neighbourhoods are an open field art gallery. Start your tour at the crossroads of Oberkampf Street and Saint-Maur Street. Artists from all over the world create a new painting there every two weeks. Next, go to Lemon Street, then Denoyez Street and its colourful walls, a true cult place for street artists.
Continue on Julien Lacroix Street and Fréhel square. Since 1993, French artist Ben calls out on passer-byes: "Il faut se méfier des mots" (Beware of words) says a sign there. Next, go to Piat Street, Ermitage Street, and Ménilmontant Street. There, on the side of a building on Sorbier Street, you will see the famous white figures of Jérôme Mesnager: "C'est nous les gars d'Ménilmontant !" (We are the Ménilmontant boys!) they shout.
Ourcq canal: street art on the river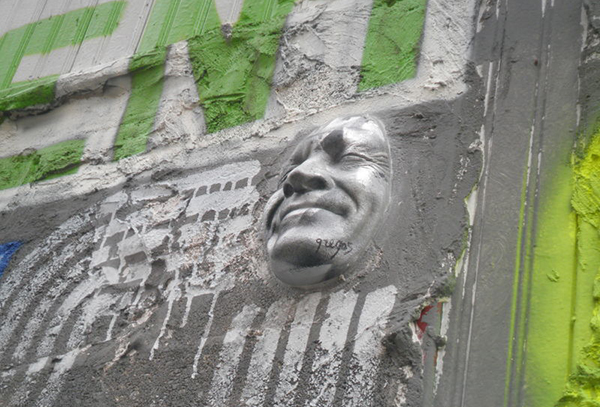 From Paris to the city of Pantin and beyond, the banks of the Ourcq canal hold beautiful visual surprises. In spring 2016, they hosted the "FestiWall", the first Paris festival of urban art along the river. Giant frescoes, miniature drawings, mosaic or sculptures, street art shows all its colours here.
In such a rich environment, check out the plaster faces spurting out of the walls. By spreading its super-realistic casts all over the capital, French artiste Gregos reboots the so-Parisian-story of "The passer-through-walls" by Marcel Aymé.
Butte-aux-Cailles: street art on the left bank
On the other side of the Seine River, the paved streets of the Butte-aux-Cailles are worth a visit. On the walls, with spray or brushes, posters or stencils, unknown artists talk with the French stars of this art: Miss.Tic, Invader or Jef Aerosol. Stroll in passage Sigaud, Alphand Street, passage Boiton, Jonas Street and others: you'll find pieces made out of poetry or politics or both, intertwined in a vibrant chaos in perpetual change.
Don't forget to look up: most art pieces are above 4 meters high. The reason is simple: beyond this limit, the City of Paris is no longer in charge of cleaning off graffiti, the owners are. And those often let the art pieces live longer, to the benefit of artists and passer-byes.