An unusual winner of the Goncourt Prize
At only 35 years old, French-Moroccan author Leïla Slimani won the famous Prix Goncourt in November 2016. Portrait.
The career of a free woman
Leïla Slimani was born in 1981 in Rabat. Her mother was one of the first female doctors of Morocco, a rare role model of freedom and independence. Her father had studied in France and pursued his career in Morocco as Secretary of State in Financial Affairs, then became CEO of the bank Crédit immobilier et hôtelier. With such parents, the young girl lived in a "protected bubble", as she described to the newspaper "Le Point" in 2016. "I had a rather marginal life compared to the rest of the Moroccan society", she said. In the evening, her father used to read "One Thousand and One Night" to her.
Young Leïla studied in French high school in Rabat and went to Paris in 1999. She studied in literary "classes préparatoires" (preparatory classes, a very intensive 2-years course to train undergraduates to enter in "grandes écoles") and was accepted in Political Studies. As a passionate reader, she fell in love with the writing of Anton Chekhov, Milan Kundera and others. She admires Stefan Zweig and even went on a long journey in Eastern Europe in the footsteps of the Austrian author in Prague, Vienna and Budapest.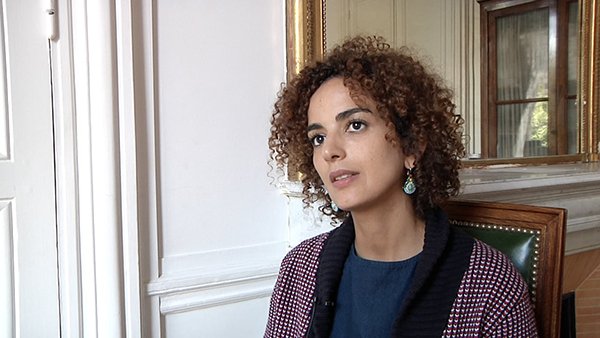 Leïla Slimani once wanted to become a theatre actress. After theatrical studies at the Cours Florent, she played in movies: we can see her in "Wake up Morocco" by Narjiss Nejjar in 2006. But in the end, she chose to walk another path: the one of words and journalism. Once she graduated from ESCP Europe, she was accepted in the weekly magazine "Jeune Afrique" in 2008.
The 12th Prix Goncourt winner
In 2014, Editions Gallimard published her first novel "Dans le jardin de l'ogre" ("In the garden of the ogre"). With an acute sense of psychology and a powerful writing, Leïla Slimani set a signature darkness. Her second novel "Chanson douce" ("Sweet Song") is a chilling story of a child killer nanny based on real facts that occured in New York and set in the book in Paris. On November 3, 2016, the novel won the Prix Goncourt, the most prestigious literary prize in France.
"Leïla Slimani brought to the French language a new aspect of writing" said to Agence France-Presse the author Tahar Ben Jelloun, winner of the Prix Goncourt in 1987 and now member of the jury. The day she received the prize, Slimani had just come back from her native country. "I was moved by the students, and mostly young female students that I met there", she said to Radio France international. "They want to write, they want to read, they want freedom, and a free and honest speech. I really hope to be up to their expectations." The French-Moroccan author is the 12th woman to win the Prix Goncourt since its creation in 1903.
Photo © Sciences Po Paris, DR