French literature boosted by its African genesis
The prestigious Man Booker International Prize has just published its shortlist. Two French-speaking writers are competing, and both focus on post-colonialism: Guadeloupian Maryse Condé and French-Congolese Alain Mabanckou.
The British "Prix Goncourt"
The Man Booker International Prize was created in 2005 and completes the most significant literary prize in United Kingdom, the Booker Prize, created in 1968. The latter only rewards novels written in English, while the new Man Booker Prize International is for all nationalities and awards an author for all its work. The prize is 60,000£, and it creates a global impact. Just as the Goncourt prize, the Booker prize is a guarantee of a sell surge. This year's finalists, Maryse Condé and Alain Mabanckou, contribute to the renown of French literature in the world.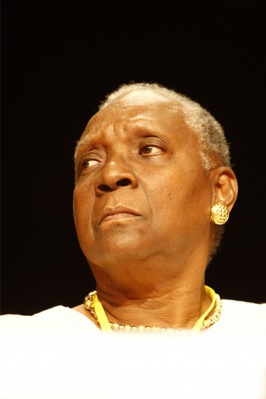 Maryse Condé, the Creole world
Maryse Condé's novels explore the themes of multiculturalism, sexism and slavery through various times and scenes. The tone is sharp and tainted with rebellion. Maryse Condé published over 20 novels, among which La Vie scélérate (French academy award) and I, Tituba: Black Witch of Salem (Women's literary Grand Prix). Her novels are translated in over 12 languages, widespread among North-American readers and studied in universities. Maryse Condé is the president of the Committee for the Remembrance of Slavery and she received the Légion d'honneur in 2014.
Alain Mabanckou, black humour
Alain Mabanckou represents the fight against everyday racism with humour and satire. His work is populated with eccentric characters often parted between two cultures: the African and the Western culture. His novels are fun, but ponder on serious matters. The post-colonial identity is at the core of his work, with an ever-present "I" in the background. Alain Mabanckou is a prolific writer who is not limited to one style or means of expression, and he produces novels, short stories, poetry, anthology and essays. He wrote Memoirs of a Porcupine (Renaudot Award) and L'usure des lendemains (French poets society award) and he teaches French literature in the University of California in Los Angeles.
Shining is what counts
After Patrick Modiano, who won the Nobel Prize of literature in 2014, French literature is once again on the front scene. By placing the theme of multiculturalism at the core of their work, Maryse Condé and Alain Mabanckou show that French literature is in line with its time. Results to be published on May 19th in London.
Photos: © MEDEF, BALTEL/SIPA