The French knife that conquered the world
The Opinel knife is both an essential and cult object of the French heritage. Since its creation in 1890, it has adapted to a more and more urban environment. It also gained international recognition.
The Opinel is found in every pocket
In the US, it is simply called "French Knife". In the hands of Picasso, it became a sculpting knife. Since its creation, the famous Savoy blade goes from success to success. As a proof: the Opinel French company now manufactures 4 million knives a year. It has sold over 300 million knives in 71 countries. It is still located in France, in the heart of the Savoy region.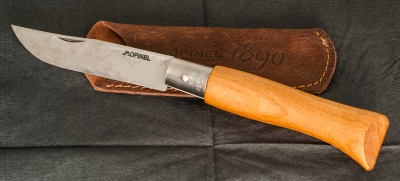 A 100% family success story
The story of the famous knife can be seen as a family saga marked by success. In 1890, in a hamlet in the Savoy region, Joseph Opinel crafted the first templates of his knife. From 1914 to his death in the 60's, he developed the brand while maintaining the familial status of his company. Today, the company is driven by Maurice and Denis Opinel, the founder's grandson and great-grandson.
A trendy knife
Light and handy, the Opinel handle has kept the same shape since its origins. Its rotating lock on the shell ring prevents the blade from closing. The simple and raw charm has made the pocket knife a very representative classic design of the French heritage. The Victoria and Albert Museum ranked it among the 100 most beautiful objects in the world.
It also adapted to the evolution of a society now mostly urban. The brand has deployed on new markets: creation of a range of knives for high standing restaurants or the development of a gardening case. In everyday life, it is still an essential companion, the perfect sturdy and reliable tool of every picnic and trek.